Choosing the right hose can make all the difference in system performance and future maintenance hassles. Here are the four main areas to consider when selecting a hose: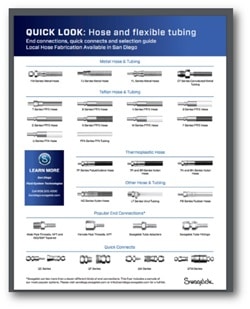 1. Core tube material and construction
2. Reinforcement layers
3. Covers
4. End connections
Different core hose materials give a hose different qualities. Here are the basic types of Swagelok hoses that are available and the qualities associated with each:
Metal Hose
Metal hose is the best option for applications that produce very high or very low temperatures, up to 454C and down to -200C. They also handle pressures from 3100 psi to vacuum. On top of that, they aren't gas permeable. That's important if, say, you need to connect a bottle of gas to an analyzer and you don't want the gas to bleed off. Our FM and FL metal hoses exhibit strong performance in dynamic cycling applications, and our metal hoses with a 316L braid provide greater corrosion resistance.
Metal hose isn't perfect for everything, however. It's not recommended for high vibration applications, because vibration can cause fatigue failure. They also shouldn't be subject to pressure surges or shock where the pressure is greater than 50 percent of working pressure.
PTFE Hose
PTFE, teflon©-type, hose offers great flexibility, and can handle pressures up to 3500 psi. We also can supply this hose with a variety of end connections, because we fabricate them locally in San Diego. PTFE is a great choice because it is compatible with almost all media. There is only a short list of materials that do not work well with PTFE. If there's any concern about static electricity generation, we can supply a static dissipative carbon-filled PTFE core.
Hydraulic
Traditional hydraulic hose has a metal braid inside for reinforcement. It's strong, but the wires can break and puncture the core. That also makes the hose swell. Instead of wire, we use an internal fiber braid reinforcement to enhance the hose's pressure rating. Our thermoplastic hydraulic hose has a smooth bore nylon core that can handle pressure up to 5000 psig, and it is available as a SAE general-purpose or SAE nonconductive nylon core. We also put on a polyurethane cover to resist abrasion, and the cover is perforated to prevent blistering.
Rubber
Rubber hose is a nice choice for low-pressure applications, up to 350 psi. You push on the end connection up to the shoulder of the fitting, and it's ready to go. A nice benefit is that the internal fiber reinforcement enhances the hose's pressure rating and ensures connection retention. We offer it with a Buna N core in sizes from a quarter-inch to a full inch.
Special tagging for hoses
We also can tag your hose with detailed information such as the date of purchase, purchase order number, part number and more.