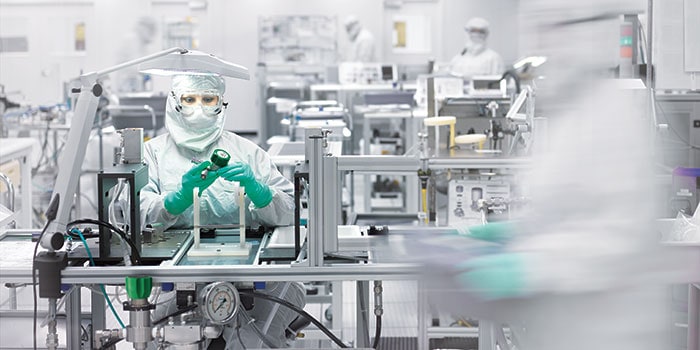 Biopharmaceutical, Pharmaceutical, and Biotechnology
Swagelok Southern California has the capacity to support our biopharmaceutical, pharmaceutical, and biotechnology customers with the components and services they need to safely operate and maintain their required sanitary and sterile environment. Your business needs fluid systems that cannot leak, and Swagelok offers the fluid system solutions that reliably make the most sense yet are easy to disassemble for cleaning without compromising quality.
The importance of flexible hose end connection types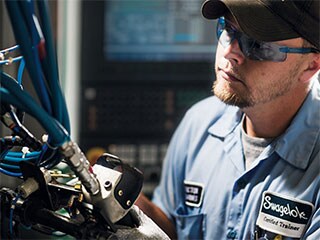 End connections serve a single purpose: to safely and securely connect components within a fluid system. But there are a variety of flexible hose end connection types to consider when designing your fluid system, and selecting the wrong type could undermine your process, put workers at risk, and compromise your bottom line. It's important to take into account your industry's standards when selecting the proper end connection. In the life science market, the importance of choosing the correct materials should be the number one priority.
Essential products to maintain a sanitary and sterile environment
| | |
| --- | --- |
| | |
| Swagelok® TS series biopharm fittings are designed to solve problems inherent in conventional sanitary clamp fittings: gasket extrusion and the resulting fluid holdup. They improve drainability, enhance cleanability, provide easy assembly, and are available in sizes from 1/2 in to 4 in. | Tube fittings with sanitary flanges, sanitary gaskets, sanitary clamps. Swagelok Southern California has the capability to source these components for you, essentially making us your one-stop shop for all the products you need to keep your operations up and running. |
| | |
| In a tightly regulated industry like biopharmaceuticals and pharmaceuticals, it's not easy to change out parts. The Swagelok U series PFA hose has an extreme resistance to chemicals, is FDA compliant, and comes with documentation certifying the materials of construction. Every hose is pressure tested and inspected to ensure it meets these exacting standards. | Swagelok RHPS series regulators are constructed of 316L stainless steel for line sizes up to 4 in., and provide a variety of options including spring-loaded and dome-loaded for both pressure-reducing and back-pressure regulator models, as well as specialty regulators specifically designed for pharmaceutical applications. All possess FDA / USP Class VI compliant EPDM seals. |
How else can we help?

Field Engineering Services
Swagelok field engineers have the ultimate advantage of a broad knowledge of Swagelok products and solutions to help troubleshoot fluid system issues with any application. You won't find this unique expertise with any other supplier. They can also resolve assembly or installation problems, perform life-cycle cost analysis, and recommend system improvements.
---

Custom Solutions
Swagelok Southern California can provide local assembly services from small projects like welding and tube bending to complete system design and build. Our Swagelok-certified technicians and experienced engineers let you get back to focusing on other important areas of your business.
---

Compressed Gas Leak Detection
Chronic leaks? Swagelok Southern California can help you pinpoint existing leaks and provide a root-cause analysis so you can understand the source and ultimate effect on your business operations. Compressed Gas Leak Detection Services is a customized program that is a step-by-step process for you to correct immediate issues and identify paths to avoid future leaks.
---
Questions?
Swagelok understands that your time is valuable. However, optimum care and maintenance of your fluid systems ensures or prevents costly and unnecessary downtime.