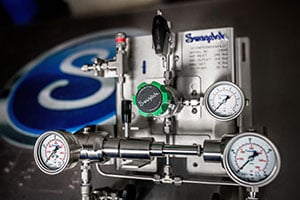 Gas distribution is a critical function for many industrial, research, and production facilities. Safely, reliably, and effectively delivering gases to where they are needed provide the foundation for a strong operation. Gas distribution systems work to deliver gases from a high-pressure source to the facility at the pressure and flow rate required by each application.
In this TechTalk webinar presented by Swagelok product manager, Karim Mahraz, on Thursday, August 12th at 11 am, you will learn about the common challenges with today's industrial gas distribution systems and how to address them.
A short Q&A will available the end of this 30-minute webinar.
Below is a short summary of topics that will be addressed.
TechTalk Topics
Definition of a gas distribution system (GDP)

Why GDP's need to be a priority in your plant operations

Common challenges with GDP's

The role of pressure regulators within a GDP

The benefits provided by specific gas distribution system assemblies

Details
What: Improve the Safety and Efficiency of Your Gas Distribution Systems
When: Thursday, August 12th @ 11 am
Cost for attendance: FREE
Length: 30 minutes plus Q&A
Learn about the importance of having a safe and reliable gas distribution system from Swagelok product manager, Karim Mahraz, how to manage common issues, and and best practices.
This event has already occurred, but you can view the recording below.