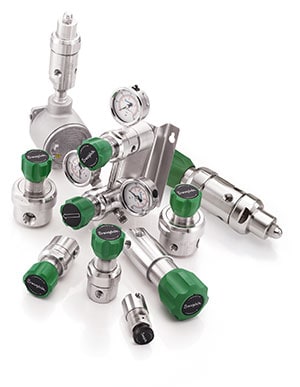 With so many variable and options, Swagelok wants to help ease the complexity of pressure regulator selection.
In this TechTalk webinar on Thursday, November 18th at 11 am, Swagelok Company's subject matter expert, Brian Jalbert, continues the discussion on how to choose the right pressure regulator for your application. If you missed it, you can watch our previous recorded webinar on this topic that was held in October. A short Q&A will available the end of this 30-minute webinar.
Below is a summary of topics that will be addressed.
TechTalk Topics
Critical vs Sub-Critical Flow

Sizing with Cv

Downstream Velocity

Swagelok Tools

Purging and Leak Testing

Bottle Regulators

Constant Flow / Point-of-Use

Variable Flow / Bulk Gas Supply
Details
What: How to Right Size a Pressure Regulator for Pressure and Flow
When: Thursday, November 18th @ 11 am
Cost for attendance: FREE
Length: 30 minutes plus Q&A
Swagelok subject matter expert and field engineer, Brian Jalbert, further the discussion on how to select the right pressure regulator for your application.
This event has already occurred, but you can view the recording below.