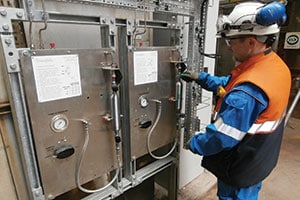 For plant operations where fluids are being processed, it is imperative to have quality product to sample and analyze to ensure that all systems are operating properly. It is also important to know that not all grab sample systems are the same. Many factors are involved in order to design the system right for your needs, including chemical composition, temperature, sample pressure, and material compatibility. Any number of issues could occur that could affect your desired results from the quality of your sample product to unexpected down time and costs with your system because of improper design.
In this TechTalk webinar presented by Swagelok's senior principal design engineer, Matt Dixon, on Thursday, July 15th at 11 am, you will learn what it takes to configure a grab sampling system for your application and understand what factors to look for during the design process.

A short Q&A will available the end of this 30-minute webinar.
Below is a short summary of topics that will be addressed during the webinar.
TechTalk Topics
Understanding Grab Sampling Systems
Differences between grab sampling and online analyzers

Basic system design principles

Sample container selection

Standard cylinder and bottle panels

Cylinder design options
Details
What: How to Develop the Right Grab Sampling System for Your Plant
When: Thursday, July 15th @ 11 am
Cost for attendance: FREE
Length: 30 minutes plus Q&A
Learn from Matt Dixon, Sr. Principal Design Engineer, how to understand the process factors involved in designing the right grab sampling system for your application that will consistently capture pure and representative product.
This event has already occurred, but you can view the recording below.