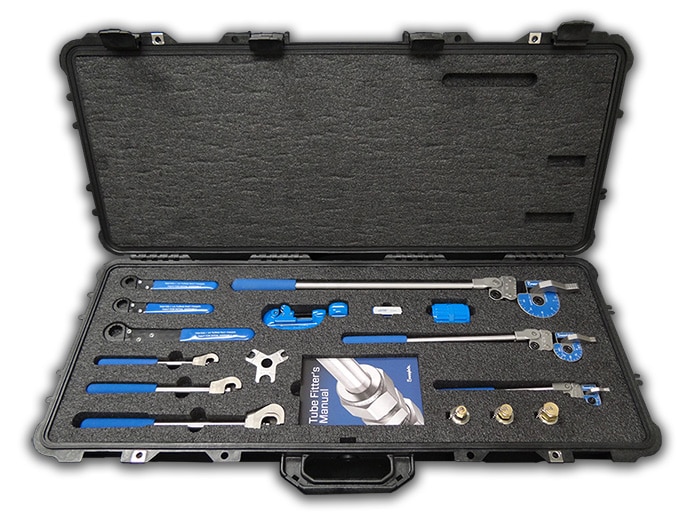 The Ultimate Set of Fabrication Tools
Swagelok has put together a complete set of Swagelok® hand tools designed specifically for fabricating tubing systems with the three most common tube sizes - 1/4, 3/8 and 1/2 inch outside diameter (OD). All tools are securely stored in a lockable, water-resistant, injection-molded case with custom foam interior and wheels for ease of use and transport.
Here's what is inside this wonderful toolbox:
Hand Tube Benders (3)
Clevis handle design provides enhanced leverage for bends greater than 90 degrees;
Roll dies reduce bending force and tube ovality, as compared to conventional slide block design
1 to 180 degree bending range
Includes sizes 1/4, 3/8 and 1/2 inches
Tube Cutter
Flare-out and work hardening of tube end is reduced
Knobs on handle are spaced in 1/8-turn increments to provide easy reference when advancing cutter wheel
Tube Deburring Tool
For deburring the inside and outside diameters of 3/16 to 1-1/2 inch and 4 to 38 mm tubing
Steel blades for long life
Rugged, heavy-duty die-cast housing
Gap Inspection Gauge
Assures the installer or inspector that the Swagelok tube fitting has been sufficiently pulled up on initial installation
Ratchet Wrenches (3)
1/12-turn ratchet facilitates use in close quarters
Heavy-duty construction includes: heat-treated, black oxide-plated steel handle, black-oxide plated steel jaws and stainless steel spring and fasteners
Includes sizes 1/4, 3/8 and 1/2 inches
Tee Wrenches (3)
Allows user to hold fitting body firmly and precisely
Fits and carries easily in tool box, pouch or belt
Head and handle constructed of stainless steel
Features a cushioned vinyl grip and generous gripping area for handle
Holds tee in various orientations
Includes sizes 1/4, 3/8 and 1/2 inches
Pre-Swaging Tools (3)
Preswages ferrules onto tube
Enables the installer to work in a more open, safe area
Makes it possible to complete the installation by following retightening instructions for Swagelok tube fittings
Includes sizes 1/4, 3/8 and 1/2 inches
Swagelok Tube Fitter's Manual
This manual is a very informative guide that contains details on troubleshooting tube fitting installation, tubing specifications, and pressure ratings as well as information on selecting tube fittings for severe service requirements, metallurgy, innovations in product design, and advanced manufacturing processes.
Swagelok Hand Tube Bender Manual
This manual is an introduction to using the Swagelok hand tube bender. From instructions on how to bend tubing to learning about bend radius to using the bender, you'll be glad to have this important piece of literature.
Swagelok eDTR Digital Catalog
The Swagelok eDTR (Electronic Desktop Technical Reference) is an electronic version of our numerous Swagelok catalogs, technical bulletins, installation instructions, videos, archives, and more right at your fingertips. All information is stored and indexed for quick and easy access and delivered via a flash drive about the size of your thumb. No need for internet access or lugging heavy literature around when you have the Swagelok eDTR.
---
To Place an Order
Contact your account manager or call (800) 252-7087 to place an order for your own Swagelok Tube Fitter's Toolbox. Please order using local order part number:
MS-FSTOOLS-KIT
. You can also order via
email
.
Stay in the Loop!
Want to be informed about any new Swagelok course offerings or training events?
Sign up to receive our emails
and choose only the emails you'd like us to send.