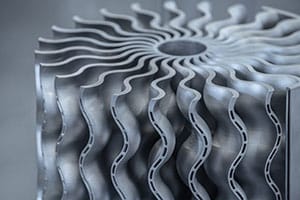 Additive Manufacturing (AM), also known as 3D printing, is an technological advancement in manufacturing that uses CAD software or 3D object scanners to mechanically deposit layers of material in precise geometric shapes to create an object. This simple, yet complicated process enables the production of lighter, stronger part and systems for industry applications such as aerospace, medical, and automotive.
In this TechTalk webinar presented by Swagelok's senior material scientist, Dr. Bob Bianco, on Tuesday, June 15th at 11 am, you will learn about the benefits and limitations of additive manufacturing along with products and services where Swagelok can help.

A short Q&A will available the end of this 30-minute webinar.
Below is a short summary of topics that will be addressed during the webinar.
TechTalk Topics
Introduction to Additive Manufacturing
Industry and Swagelok Applications
Fixtures and holders

Bumpers

Fuel injectors

Steam traced ball valve

Flange adapter

Weld collet

UHP manifolds
Design for Additive Manufacturing
Inspection and Quality Control
Typical defects

PBF design factors

Quality, inspection, and NDT
Supply Chain and Process Flow
Quality and inspection, finishing, lab, and customer tests
Emerging Technologies
Metal FDM – desktop metals
Metal binder jet printing – HP
Build software / laser control
---
Details
What: Fundamentals of Additive Manufacturing
When: Tuesday, June 15th @ 11 am
Cost for attendance: FREE
Length: 30 minutes plus Q&A
Learn about the fascinating topic of additive manufacturing — the benefits, limitations, and limitless capabilities along with Swagelok products most suited for this fast growing industry.
This event has already occurred, but you can view the recording below.