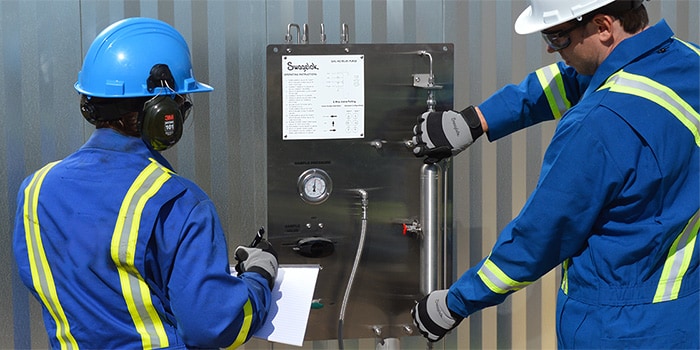 Inaccurate samples can result in sample systems inefficiency, affecting overall quality. With pressures like these, you need a high performance resource. Swagelok Sample System Evaluation and Advisory Services ensures your samples are representative of your process fluids, delivered to the analyzer in a timely manner, and compatible with the analyzer.
We document your existing systems and provide a detailed report, helping you:
Eliminate causes of poor sample quality, such as blockage or moisture carryover
Reduce required maintenance and analyzer downtime by optimizing system design, including proper probe design and tap location
Resolve issues caused by high particulate loads by (1) Implementing filter and separator best practices, and (2) Calculating sample transport times
Watch a two-minute video with industry experts sharing the most common challenged encountered with sampling systems.
For More Information
Ready to learn more about Swagelok Sample System Evaluation and Advisory Services? Let your fluid solutions partner help and contact your account manager today or email us below with your request.
CONTACT US dOWNLOAD BROCHURE