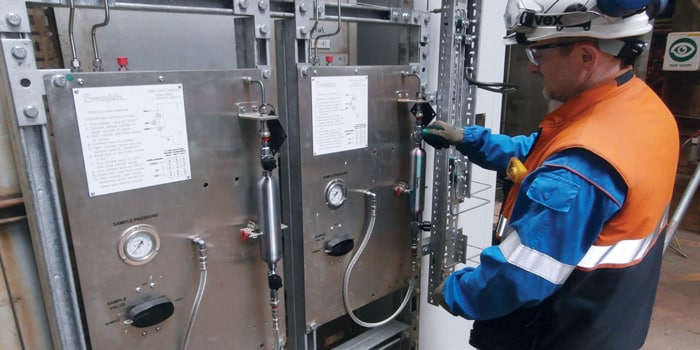 Without proper grab sampling system design and maintenance, critical actions like capturing, handling, and analyzing your samples can be difficult to achieve. When you isolate and capture a process fluid for further evaluation, you need samples that are safe, representative, and compliant. Working with Swagelok's team of trained advisors can help you identify issues affecting sample quality and opportunities for enhancing system performance.
Get Support Through Swagelok® Grab Sampling Evaluation & Advisory Services
Have Swagelok's sampling system specialists visit your facilities to inspect your grab sampling systems, document their findings using Swagelok's proprietary onsite inspection mobile application, and recommend ways to produce more accurate and timely samples while reducing your costs. Look to them for suggestions on fixing or avoiding installation issues, collaboration on design based on best practices, or even fabrication and assembly of reliable grab sampling panels for your business.
For More Information
Learn more about our Grab Sampling Evaluation and Advisory Services, as well as our comprehensive Sampling System Evaluation and Advisory Services. Contact your Swagelok Southern California account manager to schedule an appointment. We're here to help.